Thank you for visiting us on the Liberty Chiropractic Center website, your chiropractor in Liberty, MO and surrounding areas. We trust that you will find this information to be useful and informative as you make your healthcare decisions.
We provide treatment for…
Back pain
Neck pain
Headaches
TMJ
Car Accidents
Tingling in the arms/legs
Plantar Fasciitis
Tendonitis/Bursitis
Repetitive use/Overuse injuries
Sports Injuries
Resources

Helpful Tips
If driving or sitting for long periods, remove your wallet or card holder from the back pocket of your pants.
In addition to therapeutic and rehabilitative exercises, nutritional and dietary counseling may be used to address your total health.
Dr. Phillip S. Chapman, D.C.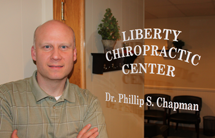 Dr. Phillip Chapman, a Board Certified Chiropractor, licensed in Missouri, is the owner of the Liberty Chiropractic Center in Liberty, Missouri.  Dr. Chapman's interest in chiropractic began to grow after he was first a patient and received treatment in high school for a sports related injury.  He was amazed at the improvements he experienced with the non-invasive treatments.  Later, during undergraduate studies where he obtained a Bachelor of Science degree in Human Biology, his interest in how the human body compensates to physical stresses and injuries led him to further study.
Upon graduating with honors and receiving a Doctorate from Cleveland Chiropractic College in 2003, Dr. Chapman joined Dr. Mable Leckrone in practice at the Liberty Chiropractic Center until her retirement.
Today, Dr. Chapman continues a tradition of excellence combined with the latest, Board Certified training.  His gentle approach to patient care, specialized training, and experience allow patients to achieve the best possible outcomes.
Contact Us
Liberty Chiropractic Center
p: 816-781-8810
f: 816-781-3468
Address:
257 W. Mill Street
Liberty, MO 64068
Hours:
Monday – Thursday 9am to 6pm
Friday – 9am to Noon